The current EU Seed Marketing regulations date back to the 1960s and draw on principles that go back even further to the first decades of the 20th century, when some European countries started to introduce seed certification rules. The objective of the regulation was to ensure that propagation material complied with quality standards and that seed was identifiable with certainty. While successful in achieving their goals, the EU regulations have had an undesirable effect: the diversity of seed available to growers fell sharply.
Despite amendments over the years, the EU regulations still fall short of supporting agrobiodiversity: they are after all deeply rooted in ideas of uniformity (DUS criteria) and productivity in terms of yield size (VCU criteria) that are linked to the industrialisation of agriculture. Their complexity favours a centralised 'formal' seed system, rather than supporting the smaller, on-farm and amateur stakeholders, known as the 'informal' seed system. The latter, however, are a stalwart of the agroecological transformation of food systems, which is necessary to address and mitigate the consequences of climate change.
While the EU Commission first attempted a major reform to harmonise and improve the regulations a decade ago, their proposal was unsuccessful at the time. A new proposal is being drafted at the moment.
The purpose of this event was to discuss and provide inputs from an agroecological perspective, and the large part of the discussion pivoted around two main topics: the definition of seed marketing and GMOs. I will briefly outline those below.
While seeds are impacted by legislation in several domains, both at the EU level and internationally (ie innovation and intellectual property: IPR/patents; biodiversity ie ITPGRFA), the EU deals with seeds mainly through the EU Seed Marketing legislation. However, the scope of what marketing means is not clearly defined. Some – but by no means all – Member States have implemented their own legislation exempting amateur use and sharing of seeds from marketing regulation (ie France, Denmark). According to Arche Noah, the EU should make the distinction between commercial and amateur use clear, by restricting its legislative domain to commercial seeds only. Others, such as organic membership organisation IFOAM, maintain that the line between amateur and commercial stakeholders is not so clear cut, for example when small organic producers are concerned.
As for Genetically Modified Organisms (GMOs), the debate revolves around so-called New Breeding Techniques (NBTs): the new generation of genetic techniques (ie CRISPR), which proponents maintain are substantially different from GMOs and should therefore be exempted from biosafety regulation, which restricts use and requires labelling of seeds and derived products. Deregulation of NBTs would however mean less transparency for citizens and farmers, who would be unable to exercise their choice based on ethical standards and precautionary principle (ie in the case of the organic movement). Moreover, the freedom of farmers and small breeders to use seeds would be constrained by the risk of intellectual property infringement, as genetic material produced in a lab is also generally protected under patenting and restrictive IPRs.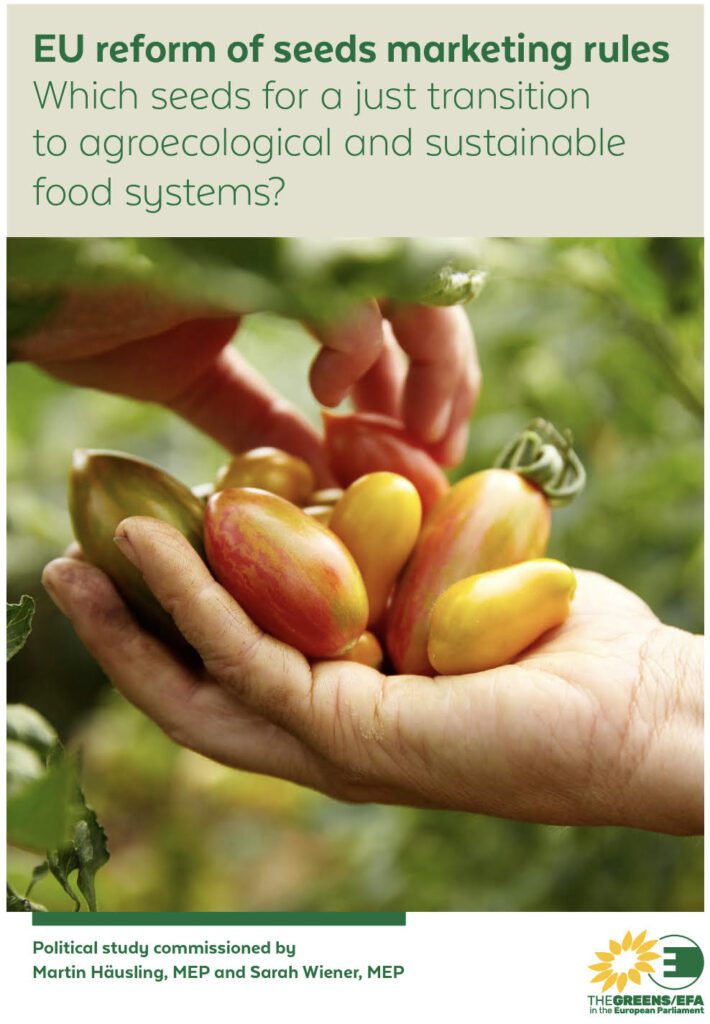 The study is now available online for all to read. In the next few paragraphs, I want to highlight some other reflections from the event, for those that were not attending.
Miriam Staudte Minister of AG Lower Saxony: seeds are essential to the sustainability of food systems, yet they hardly feature in sustainability discussions, as compared for example to soil.
Sarah Wiener MEP: the uniformity of the food available to us leaves citizens unable to imagine the sheer variety of produce that exists. As an example: tomatoes are the most popular vegetable in Germany, but how many sorts of tomatoes can anyone name? There are thousands of different varieties in the world, in all colours, shape and sizes, with their own different uses! Unaware, we cannot claim diversity for our diets, let alone demand that diversity is protected per se.
Riccardo Bocci, Rete Semi Rurali (IT): the best variety is the variety that works best in your specific conditions, as there is no universal definition of value for a specific plant. However, the current EU regulation implies superiority of varieties based on crop yield size. This is an outdated agronomical concept, in particular when considering cultivation on marginal land such as the Italian mountainous regions. Low-input varieties (which are usually considered less productive) can in fact produce more under such conditions than modern varieties (which are designed to be highly productive only under high-input growing conditions). In making these considerations, Riccardo was picking up a comment from the audience, which pointed out how the DUS (Distinctness, Uniformity and Stability) and VCU (Value for Cultivation and Use) criteria in the EU Seed Marketing regulations combine to pitch candidate seed varieties against each other in the competition for access to the European Seed Catalogue, forcing a sort of one-way 'genetic progress'.
Annika Michelson, Maadjas (EE): Estonia is considered marginal land because of its climatic conditions, so Annika also argued against defining value in terms of crop yield size and made an example from research on old varieties. These were tested for mineral content and found to be richer than modern varieties. It is known from previous research that old varieties are richere in protein too. Nutrient density appears therefore to be overall higher in old varieties, which prompted her question: do we need so much food that is not very nutritious, or would we be better off with less food, but more nutritious?
The EU commission draft proposal for reform of the EU Seed Marketing rules is expected in June 2023.