ARC2020 (Agricultural and Rural Actors Working Together for Good Food, Good Farming and Better Rural Policies in the EU) released a report with the findings of their project in France:
Collective Reflections within Socio-Ecological Transition, 2020-2022"
With the "Nos Campagnes en Résilience" project, we wanted to understand the relationships between new projects and initiatives within socio-ecological transition. How do they share experiences? How have agroecological farmers and rural inhabitants organised and mobilised to prepare for new challenges? How do they broach, collectively, concepts of well-being, solidarity, and changes of practices?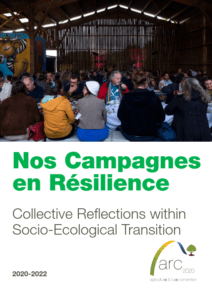 The report discusses the eight factors that were observed to make socio-ecological transitions successful:
A Collective Adventure
Cultivating the Human Spirit, Cultivating Nature
Earnings, Yes – But What About Wellbeing?
The Local as Testing Ground
Opening Up Farming
Getting Political
Big Visions
The Struggle is Peaceful, Collective & Intergenerational!
which boil down to the overarching message: no one can do it alone!
It's a long road to building a new way of imagining life in the countryside. […]

Socio-ecological transition requires collective reflection, collective work, collective building and collective wellbeing. […]

The collective is a strength: a source of ideas and creativity that allows space for the individual. 

ARC2020, https://www.arc2020.eu/rural-resilience-a-collective-adventure/